Yoga Instructional Video Series | Acro Yoga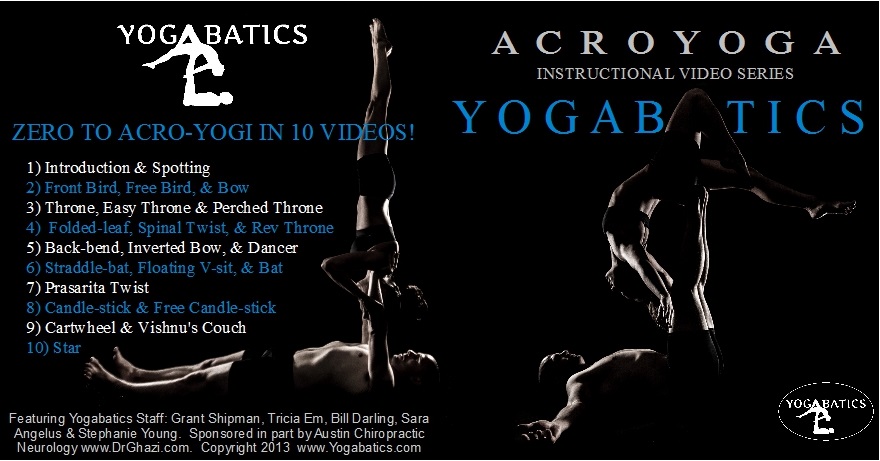 In May 2013, Yogabatics put out the first-ever acroyoga instructional video series published free online.  It gained instant international popularity and the attention of acro-yogis around the world.  DVD's for order will soon be available.  The entirety of the series is available below as published in YouTube.
YOGABATICS TEASER
YOGABATICS TRAILER
YOGABATICS PART ONE OF TEN
Introduction & Spotting
Introducing you to the wonderments of acroyoga, how to get the most out of this video series, and how to maximize fun and awesomeness as a spotter.
YOGABATICS PART TWO OF TEN
Front Bird, Free Bird, & Bow
The pose that almost everyone starts with and never leaves behind. Start flying with bird, and then soar even higher with free bird and bow!
YOGABATICS PART THREE OF TEN
Throne, Easy Throne & Perched Throne
Sit-up tall and secure with throne! Throne is a great way for the base, flyer and spotter to test out the waters of partner-balancing.
YOGABATICS PART FOUR OF TEN
Folded-leaf, Folded-leaf Spinal Twist, & Reverse Throne
Folded-leaf is a foundational pose for flying therapeutics. Learn this well as a base and you'll gain more friends! Then turn the flyer around to learn throne facing the other way- reverse throne.
YOGABATICS PART FIVE OF TEN
Back-bend, Inverted Bow, & Dancer
These poses look and feel great! Relax into back-bend, try-out inverted-bow and then dazzle your audience with dancer.
YOGABATICS PART SIX OF TEN
Straddle-bat, Floating V-sit, & Bat
Show gravity who's boss with this transition into straddle-bat. This is like folded-leaf with the flyer rotated 180 degrees.
YOGABATICS PART SEVEN OF TEN
Prasarita Twist
This move is harder to pronounce than to do. Directly transition from folded leaf to straddle-bat with some smooth footwork.
YOGABATICS PART EIGHT OF TEN
Candle-stick & Free Candle-stick
Our first true inversion of the series. If you've worked your way through all the previous videos, then you're ready for this one- let's get up-side-down!
YOGABATICS PART NINE OF TEN
Cartwheel & Vishnu's Couch
How can you make a cartwheel cooler? Do it on someone else! This is our first side mount of the series. Then hang-out on your base's feet with Vishnu's couch!
YOGABATICS PART TEN OF TEN
Star
Possibly the most exciting of all foundational poses! This is the highest pose we've done yet, and you're going to love it!